Free Bootstrap Themes
Responsive, open-source templates & themes for Bootstrap 3 & Bootstrap 4. Download a free theme to kickstart your Bootstrap website.
Light Bootstrap Dashboard
Light Bootstrap Dashboard PRO is a Bootstrap Admin Theme designed to look simple and beautiful. Forget about boring dashboards and grab yourself a copy to kickstart new projec..
Mobirise - Free One Page
Mobirise is a free bootstrap template with a clean, modern style - mobile optimized, and fully responsive. Suitable for every type of small business, portfolio, one-page site..
Essentia Free Bootstrap T
Essentia Free Bootstrap Template is a fully featured, free Bootstrap Theme. Essentia is based on Twitter Bootstrap 2.3.2 and works on all major browsers...
Parallax One
A stunning, responsive Free One Page WordPress theme excellent for Creative Individuals!..
Elate One Page HTML5 Boot
Elate is a one page free html5 bootstrap template portfolio for freelancers, designers, developers and even agencies. It has a smooth parallax and animation effect on sections..
New in Bootstrap 4 Theme
This is a customized, Bootstrap 4 one page example template that demonstrates some of the new features that are upcoming in Bootstrap 4. This is a starter one-page theme that..
Cardio One Page Template
A clean and modern one page website template built with Bootstrap. This responsive HTML template has a gym related theme but can be easily fitted to any kind of content. Take ..
Bootstrap 4 Admin Dashboa
Are you ready for Bootstap 4? The 4th generation of this popular responsive framework will include some interesting new features such as 5 grid tiers (now including xl), cards..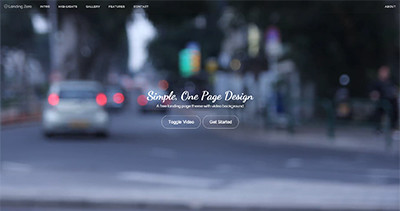 Landing Zero Theme
Here's a Bootstrap landing page theme with a full-screen video background. This single-page Bootstrap template has a sleek dark/grey color scheme, accent color and smooth scro..
Flatfy One Page Theme
A free theme from Andrea Galanti a Web Designer, based in Toscana. This is a one page template with flat design, carousel font icons and SVG images. Pay with a tweet to downlo..
All themes are responsive, and free to download
Why Bootstrap?
It's no surprise that Bootstrap is the most popular frontend framework. Web designers and developers can leverage Bootstrap to build responsive Websites quickly, consistently and responsively. It enables frontend developers to get started quickly with many standard patterns, tools and components. It's a responsive foundation that helps to ensure consistency of design. Bootstrap is a well-tested, stable codebase. That means less testing than a home-grown solution. We'll also show you that it's easy to make a Bootstrap site, not look like a Bootstrap site.
Most BootstrapZero themes are for Bootstrap 3.x, and we've recently introduced new Bootstrap 4 themes. Thanks for checking out BootstrapZero.