Bootstrap 4 one page example of what's new
New in Bootstrap 4 Theme

at www.codeply.com is a device-agnostic, modern responsive design that is customizable. It's designed to work well on desktops, laptops, tablets and mobile phones.

Open source
Bootstrap 4.3.1
This is a customized Bootstrap 4 one-page example template that demonstrates the new features that are upcoming in the Bootstrap 4. This one-page starter theme uses the Bootstrap 4 alpha version. As you'd expect from a pre-release version, it's a work in progress that will continue to evolve with new releases.
This theme will give you preview of new features such as cards, larger fonts, flexbox, the grid system (now with 5 tiers), and extra utilities.
Like this? Cast your vote...
Share the Love
Similar Themes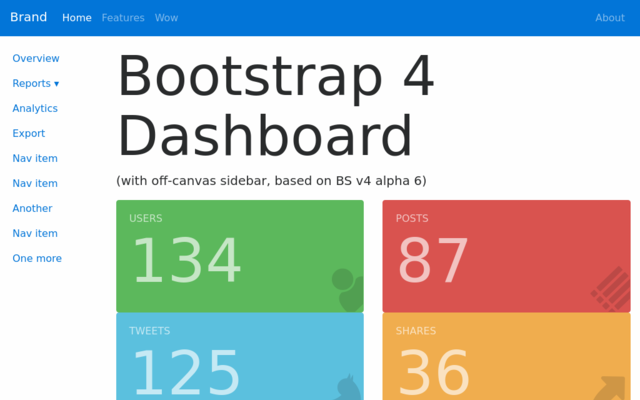 Bootstrap 4 Admin Dashboa
Are you ready for Bootstap 4? The 4th generation of this popular responsive framework includes some great new features such as 5 grid tiers (now including xl), cards, `em` sizing, flexbox, C