Making a Breathtaking Presentation: 15 PowerPoint Design Trends Edition
When it comes to presentations, people usually have different opinions about what makes one truly great. Some people say it is the way a person presents the information that matters. Others claim that such little things as slides design and illustrative materials are success determining factors. Well, actually they all are right. Both design and performance style matter. But today we are going to concentrate solely on design and find out about the latest PowerPoint design trends. So here they come, 15 hottest trends.
1. Custom Shapes
What is a PowerPoint presentation without any images? However, just adding some pictures to your slides is not cool anymore. That is why you want to try custom shapes. Create your unique graphics in such tools as Merge Shapes and make your presentation fancier.
2. Infographics
You probably already know that you should avoid too much text on your slides. Well, infographics is perhaps the best way to substitute long text passages, so why not?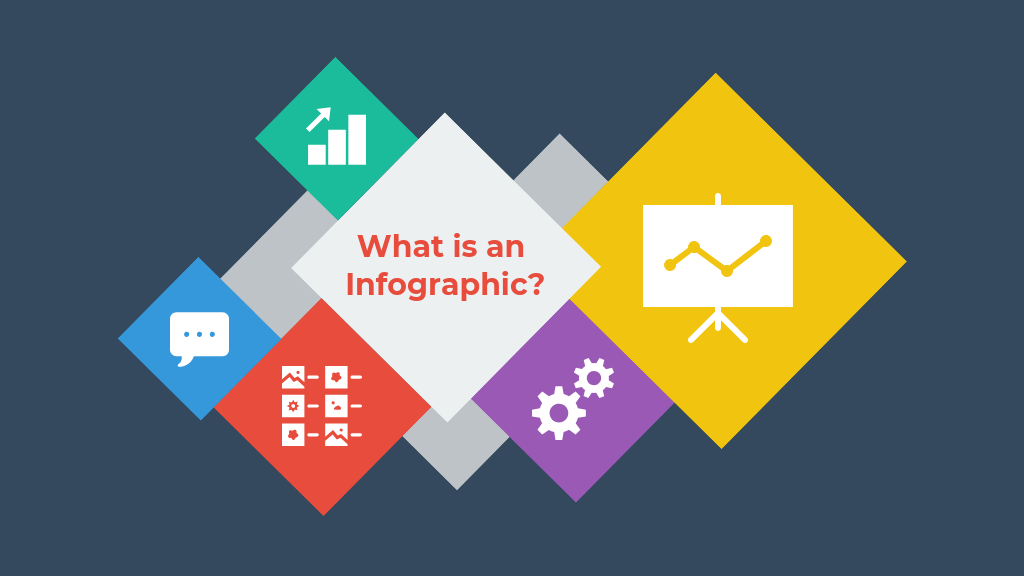 3. Asymmetry
Asymmetrical layout is one of the latest trends in web design. It is eye-catching, futuristic, and simply bold, so you really want to consider this very layout option.
4. Isometric Design
Isometry is basically a way to draw 3D images in two dimensions. Such a design will make your slides look modern and a little bit SiFi and, as a result, people will definitely remember your presentation.
5. Animations
Animations is not even a trend that will fade in a couple of months, it is actually a classic. Well, should we even say that animation effects is always a good idea?
6. 3D
3D illustrations were released by Microsoft just a couple years ago. Yet such a cool feature immediately conquered our hearts. In fact, these illustrations look super dope, so go ahead and try it out.
7. Dynamic Layout
Dynamic layout always looks cool. It will liven up your slides and eventually more people will pay attention to their content. Besides, dynamic layout will not only make your presentation fancy but also professional.
8. Unconventional Header Styles
Forget about the headers on the top of your slides, it's just not cool anymore. What is cool is irregular headers, so basically you want to experiment with the headers location and orientation. Such a simple trick will help you make your PowerPoint presentation the one and only.
9. Handwritten Fonts
Yep, Times New Roman will not surprise anyone anymore, so you must use something more eye-catching like handwritten fonts, for example. Moreover, you can also use your own handwriting, which will no doubt add some personal touch to your slides.
10. Virtual Reality
If you are looking for something truly bold and dope then virtual reality is the way to go for you. All jokes aside, using virtual reality elements in presentations is the latest and surely the coolest trend. That being said, VR is the very tool for those who want to go for something really unconventional and simply stunning.
11. Duotones and Gradients
Gradients and duotones are extremely popular in web design nowadays, so why not utilize this trend for your slides?
12. Double Exposure
Create a new image by means of combining two other ones. Such an image will definitely look dope and draw your audience's attraction to your slides.
13. Vintage Fonts
We have already talked about the fact that Times New Roman isn't cool anymore. Well, you can easily substitute it with a pretty vintage font. These fonts will never let you down.
14. Retro
Alongside will futuristic layouts, retro is definitely one of the most popular trends in design. Vintage is vintage, it will never go out of fashion, that is why retro style will always be a great choice.
15. Dark Background
Last, but certainly not least, dark background. This very trend is pretty easy to understand, just use dark background on your slides and your presentation will look up to date and simply fabulous.
Well, we talked about PowerPoint trends, but where do you find all these fancy fonts and layouts? The answer is quite simple – in one of the best PowerPoint templates. These templates are already equipped with lots of cool stuff like fonts, layouts, and graphic elements. So why don't you give such a template a shot?
For those of you who are interested in getting a nice and neat template, here are some pretty cool bundles from MasterBundles that you will definitely fall in love with.
1. Google Slides Templates for Teachers Bundle
Price: $15
Find the trendiest layouts and fonts as well as more than 600 vector elements in this very bundle.
2. Technology PowerPoint Templates Bundle
Price: $12
Technology bundle comes with more than 1600 unique slides that will help you create a decent futuristic presentation.
3. Simple PowerPoint Templates Bundle
Price: $20
Simple is a bundle for literally all occasions that is equipped with hundreds of useful features and elements.
4. Medical PowerPoint Templates Bundle
Price: $15
This very bundle is the best deal for those of you who are looking for lots of graphic elements, color schemes, and layouts.
5. Creative PowerPoint Templates Bundle
Price: $25
A bundle for creative people who strive to make their presentations simply perfect.
6. Modern PowerPoint Templates Bundle
Price: $35
And last, but not least, a bundle for all the modern lovers out there.
Final Thoughts
Slides design is something that not many people consider important, yet it is the very thing that makes a presentation extraordinary. Such little details as layout, background, font, or vector images can both ruin your presentation or make it successful. Certainly, it is totally up to whether to use these trends or not, just remember that these are the little details that make anything perfect.
Have you already utilized any of these trends in your presentations and did it work well for you? Let us know in the comment section below!
Share the Love