Blog
News and other helpful articles
Like every software on the internet these days, Software as a Service is the model of choice for product owners and for most consumers for a variety of reasons. The big question that developers and product owners struggle with is the model that will fit their product or business. Sure you can say you're licensing your product via a SaaS model, but what does that really mean? Are you tiering your product? Are you charging by the user? What makes sense for your product may not make sense for other products and vise versa....
The age old phrase "why reinvent the wheel when you can just perfect it" is applicable in the web design community. Why create a site from scratch when you can find a structurally sound framework from a Bootstrap template and save yourself the time, effort and money. There are thousands of free bootstrap templates available on the internet and many that are found here at bootstrapzero.com that could fit your needs along with many premium templates that provide even more features, textures and perhaps a better user experience. These templates offer a variety of savings to site developers and businesses highlighted below....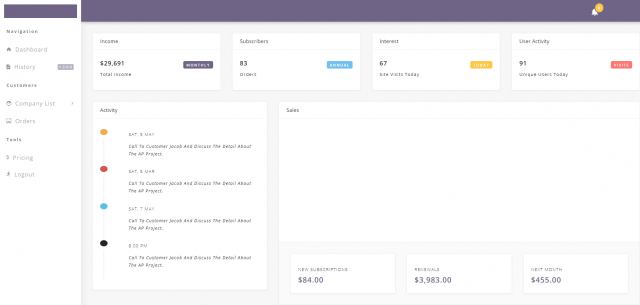 You have a site or product you've been working on that solves a business problem for your organization and you want to offer it to others. You want to bundle it into a Software as a Service (SaaS) package but you're stuck on what data you should care about? This is a common struggling point for a lot of great products and developers. These Key Performance Indicators (KPI) data points can be critically important to the success or failure of a product because of time inefficiencies created when data isn't tracked properly....
In dramatic fashion, Facebook has freed its React (reactJS) library and its GraphQL library from its once unfriendly and unloved model and is not licensed under the MIT license model. This in essence allows for future progress of the tools along with allowing developers to to use these libraries to better their products without violating their license agreement with the library. But some may ask, what does this mean for me?...
Website design can be an overwhelming task for technical and non-technical people alike. When you take a minute, and think about what makes up a website, you may become even more stressed about the undertaking. The Bootstrap framework is a great starting point for most websites and can save countless hours and expense into creating a site of your dreams....
Bootstrap 4 Framework - What you need to know! With the release of Bootstrap 4, here is a great guide about new and exciting features....
Top 5 Bootstrap Templates Worth Buying - Responsive, Onepage, Portfolio, Admin Templates...
Technology advances every year and so does web design along with it. There are 10 great reasons along with new web trends to follow and use to redesign your current website. The web is focused on creating an accurate community for billions of people to find what they are looking for on the web....
Thanks to the latest application to power the bootstrap 4 framework, Mobirise Mobile Web Builder claims to be able to give the regular folk (with normal office applications skills) the ability to create a Bootstrap 4 powered site and even host it securely in a day...
Responsive web development has been made faster and easier, thanks to the intuitive mobile framework, Bootstrap. Bootstrap comes in different editors/builders, though all the editors have a common drag-drop function for easy accessibility of the frameworks' library. Here is a glimpse of the top five Bootstrap builders and editors that are in high demand on the market....